Others First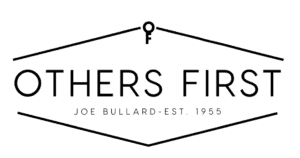 The key to everything we do is "Others First."

What is Others First?
Here at Joe Bullard, we believe it is not about us. It is about Others First.  Each year, Joe Bullard and our employees give back to our community in some way. We have been a part of many great partnerships including United Way, the FUSE Project, Habitat for Humanity, Ronald McDonald House, St. mary's Home, Alabama Baptist Children's Home, and many more! Our employees genuinely enjoy being able to give back to our community. Along the way, we have had people ask us how they too can be a part of this. For the first time, we are excited to roll out a partnership with all of you to join us in giving back to our community and to those in need!
How can I be a part of Others First?
The passion to put others first has driven us to create "Others First" merchandise.  All proceeds will go to local charities and to those in need. By doing business with Joe Bullard or purchasing Others First merchandise, you are on this journey with us. Quarterly we will send out a newsletter where you will be able to see stories and updates on how you are helping impact others. To view available merchandise, click the "view items" button below.
How can I place an order?
There are two ways to place an order with us.
1. Stop by any Joe Bullard Automotive location and someone from our staff will help you purchase items.
2. Visit our online store to place your order! Click
HERE
to visit now.