COVID-19 (Coronavirus) Precautions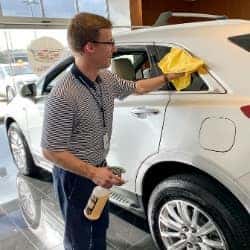 With our country continuing to feel the increased impact of COVID-19 (coronavirus), we feel it is important to share with you what we're doing to help keep our community safe and healthy.
As a valued Joe Bullard customer, your safety and well-being are our top priorities.  We want to personally share the steps we're taking to protect all customers and employees.
We've always taken the cleanliness of our locations and vehicles but we know this is important now more than ever. Aligned with guidance from health authorities, we're implementing the following additional measures.
Exposure – Sales and Service
Employees with any signs or symptoms of illness are prohibited from working.
Placement of hand sanitizer throughout dealership(s)
Proper and frequent handwashing using soap and water
Routine cleaning with a recommended disinfectant of all frequently touched surfaces at our locations, including but not limited to countertops, door handles, kiosks, workstations, and bathrooms
All vehicle doors will remain locked until a customer is ready for a test drive. After each completed test drive every vehicle's interior will be cleaned and locked again.
Service 
To limit the potential exposure of our customers and employees as vehicles are brought in for service, we're enforcing the following:
Technicians and support staff handling customer vehicles are required to wear gloves and change them with each vehicle
Thorough cleaning and wiping of interiors including the dashboard, instrument panel, accessory panel, center console, cup holders, compartments, seats, and other areas
Immediate application of steering wheel covers on all vehicles upon arrival
Employee and Customer Interactions
As a valued customer, we always want to greet each of you with a warm friendly welcome or handshake to thank you for your business.  As part of our protocols, we are going to greet you with a "Big Smile and a Bullard Bump".
Instead of a traditional handshake, we'll be encouraging our team to bump elbows. (We've seen this method being used by top officials in White House, and if it's good enough for the POTUS then it's good enough for us!)
Should you find yourself still in need of sales or service support during this time, we do have mechanisms in place to help without you having to visit the dealership.
We're able to complete almost all paperwork and payments online or by phone.
Purchased vehicles or vehicles with completed service can be delivered to your location.
Our sales teams are happy to perform video calls to allow you to see the vehicle you're considering.
Service staff can easily communicate via video call or text to share vital information about service needs.
If you have an existing sales or service appointment scheduled but are unable to make it in, please contact the appropriate location and department to notify them as soon as possible. You can easily chat with sales and service representatives from any of our websites.
Next Steps
Please be assured that we will continue to monitor information from public health officials and following recommended guidelines to minimize any risks to our guests and employees.
Thank you for choosing Joe Bullard Automotive Group.