Joe Bullard Automotive Supports United Way Day 2020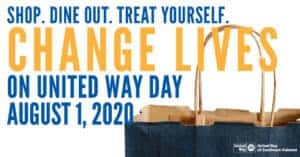 We are excited to be a part of United Way Day 2020. Stop by any of our locations to purchase a vehicle or have your current vehicle serviced with us on Saturday, August 1 to be a part of changing lives and saving lives in Southwest Alabama!
United Way Day is a one-day fundraiser and awareness campaign for the United Way of Southwest Alabama that is led by the retail and service industries. Vendors feature their businesses while raising awareness and funds for United Way. Vendor donations are based on a predetermined offer designed by the vendor in agreement with the UWSWA. We have agreed to donate $100 for every vehicle we sell and $10 for every service appointment on August 1!
United Way Day began as a Shoe Station fundraiser and promotion in 2018. In 2019, Shoe Station raised $9,526 by donating $1 for every pair of shoes sold and allowing customers to make additional donations at checkout. This year, UWSWA has expanded United Way Day to include 25 vendors in Choctaw, Clarke, Mobile, and Washington Counties.
Donations from United Way Day will help fund 11 of UWSWA's internal programs and grants to the 46 UWSWA partner agencies.
UWSWA staff or partner agency representatives will be on-site at many of the vendors to provide information about the services available to the community and the importance of the Community Safety-net to Southwest Alabama.
To learn more about United Way visit their website.
See the full list of vendors here!